An In-Box Review by T. Garth Connelly, with input from Joe Caputo of IPMS Ocala
(IPMS Model Club), Steven Allen of Austrlaia, Dr. Frank Spahr of Germany
asnd many other ship modelers.
Photos by Joe Caputo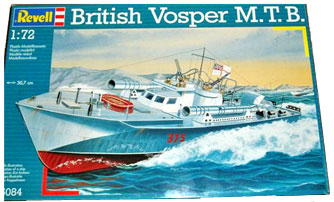 The 12:72 Scale Vosper MTB from Revell of Germany
A myriad of accuracy erros comes with the kit.
This kit, in the 1960s, was released as a British Royal Navy MTB and as the famous PT-73 that was featured on the hit 1960s sit-com "McHale's Navy." Revell of Germany re-released the kit as a Royal Navy MTB a few years ago. In reality, the kit, whereas it is a Vosper designed boat, represents one of the many Vosper designed, US built MTBs that found their way into the World War II Soviet Navy, not a MTB of the Royal Navy.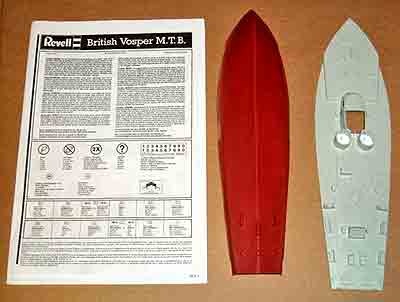 The deck and the hull of the model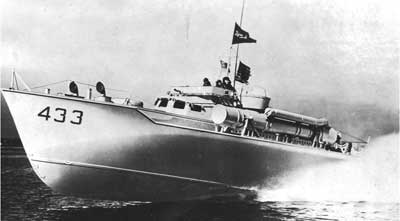 MTB-433, built at Herreshoff in Bristol, R.I..
The Revell kit could be made into this boat or one of her sisters.
(PT Consulting photo)
The Kit
The kit is molded in light grey plastic, has a water-slide decal sheet that provides single flags, a Royal Navy White naval ensign and numbers to do a limited variety of boats. A sheet of paper that has a Royal Navy White naval ensign on it is provided as well. It comes with four crew figures that are reasonably detailed. Mr. Caputo's example was molded fairly well, just having a few sink holes on the crew figures (which I don't mind, but would not use and Mr. Caputo said were - to quote him - "stiff looking figures") and only had some flashing, which Mr. Caputo attributes to former castings.
Steven Allen, who transformed the Revell PT-109 kit into a beautiful rendition of the mid-war PT-560, told me this about the Revell Vosper MTB kit:
"The too wide deck (or is it the too narrow hull?) is a well-known fault of the kit, what is seldom mentioned is that the hull is pretty inaccurate towards the stern as well. The hull bottom at the counter should be flat, or nearly so, which is typical of the Vosper design, instead you get a nice Vee like an Elco! Me thinks the original research was not too terrific. I once spent some time sanding and filling and sanding and filling one of these kits to get an approximation of the correct hull form - I did it to the end but haven't touched the rest of the kit since. The Revell/Germany kit I worked on also had the most brittle plastic I have ever seen in a model kit - the counter actually split when I stretched the hull quite gently to see if I could get it to fit the deck without gross overhangs. A better early Vosper kit would be very welcome."
He also went on to say that modelers should look at page 156 of Victor Chun's American Torpedo Boats as this has a photo of a builder's model (from the USN's Bureau of Ships) of an example of the Annapolis built Vospers designed for lend-lease to the Soviet Navy. He points to a drawing in John Lambert and Al Ross' Allied Coastal Forces volume on Vosper MTBs and Elco PT boats, because there is a drawing on page 169 that shows the lines and sections for one of these boats and the flat section at the counter is unmistakable.
Of Revell's research for this kit, Mr. Allen said that it was his best guess that the Revell master pattern maker assumed that, apart from the differing deck profile, the Vosper designed boats would be similar underwater to an Elco eighty footer. He feels that this is a glaring mistake and one that was not typical of Revell kits of the period.
A modeler that has the screen name of JWintjes who posts on the forum on www.modelwarships.com passed along these comments, "… As for the kit itself, the quality is about the same as in the PT boat. Details are there but mostly heavy, fit isn't great but acceptable. The machine guns are a distinct low point of the kit, sporting 'flash suppressors' the size of dustbins. Many parts seem to have significant amounts of flash on them these days, and the rails around the machine gun tubs (turrets) are far too thick." He also added, "Having said all that, I must admit I absolutely love this kit. Perhaps it's because it was the first Royal Navy MTB I ever got, perhaps it's easy to get, I don't really know. It can definitely be built into a really nice model."
Another modeler, who posts on www.finescale.com, who I only know as 'Greg' answers my inquiry in this manner, "… Same as with most of their kits, a ton of flash on the three examples that I received, but the hull line was clean and looks accurate. Detail is so-so, but at least they avoided the molded in coils of ropes, etc. Deck planking is really pronounced, and would need to be sanded down or filled slightly to be correct. All in all? A pretty fun build and an interesting subject."
This last point is very valid because in the build-up review of this kit available on www.modelingmadness.com, Dr. Spahr mentions how he replaced the kit's turret depression rails with thin wire. He used 1mm brass rod to do this, and he also replaced the machine gun barrels in a similar fashion.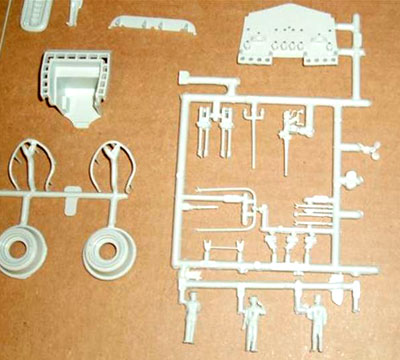 Three of the four crew figures can be seen here
They are rather stiff, aren't they?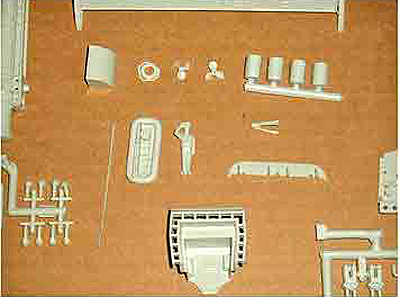 The other stiff figure can be seen in the center of this photo.
The Depth Charges are molded in two halves.
Wouldn't it have been simpler to do them in one piece?
Mr. Caputo would like to have had a little sheet of clear plastic for the ports in the charthouse. This is a very good point to make and I agree, wholeheartedly with Mr. Caputo. He had a good point about the seams and fit, In Mr. Caputo's opinion; I'll quote, "Seams, to me are questionable. While there are no more (or less) than on any other kit this size, there are some 'areas', (such as the gun turrets) where one doesn't know if it's a seam that requires attention, or something that is supposed to be that way."
That would really enhance the overall look of the model. Mr. Caputo also makes a good point about the scale of the kit. It is stated that it is a 1:72 scale kit. However, Mr. Caputo says that when the armament of this kit is compared to that of other 1:72 scale kits, he found them to be a little big. "When one stops to think that the twin .50 caliber machine guns on this Vosper seem to be same ones that Revell used on their 1:71 scale kit of the eighty foot Elco PT boat that they released as PT-109, PT-117, PT-167 and as PT-190. The same assumption could be made about the Vosper's 20mm Oerlikon gun." When you look at it, it is the same gun utilized on the kit of the Elco boat.
Here, I would like to say something about the USN Mark X tripod mount for the 20mm Oerlikon on the Vosper. On the Revell Vosper MTB kit, Revell molded the base ring onto the deck and just provided three thin legs for the mount. These "legs" look more like sticks than the legs of a tripod for a 20mm gun. A replacement should be found for this.
When it comes to painting the model, Mr. Caputo makes the comment that, "They are really fudging on the colors with their 30% matt white + 70% grayish blue and 60% matt white + grey, matt sand, carmine red, grey, matt white, basalt grey, graphite grey gold, metallic grey, matt black and matt earth. Nothing definite on their part and the vague shaded areas to show you where to paint.
I would suggest that if anyone wants to have accurate colors on this model, you should buy the proper Royal Navy colors from White Ensign Models' Colourcoats line of paints. They are the most accurate colors out there. Also, I would strongly suggest that you check your photo references for an accurate paint scheme.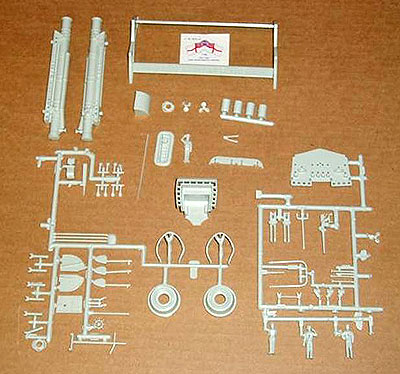 In this photo, you can see the twin .50s, the 20mm Oerlikon,
the two depth charges and the two torpedo tubes.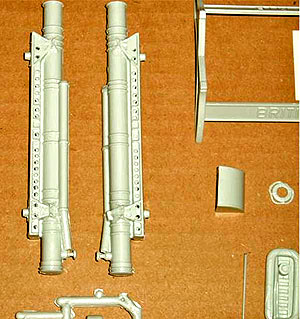 Close up of the torpedo tubes.
The armament package consists of the following:

One single 20mm Oerlikon gun on an USN Mark X tripod mount
Two twin .50 caliber machine guns
Two twenty-one inch diameter torpedo tubes (similar to those mounted on the early
Higgins PT-71 Class boats with compressed air cylinders)
Two Type C depth charges
The guns in the kit could be replaced by examples from H-R Products, AeroClub and the like and I would strongly recommend that you do. Aftermarket guns really do enhance the look of the finished model. Additionally, Great Little Ships offers aftermarket guns for Royal Navy vessels.
Whereas it has not been released yet, Great Little Ships' website states that they will be releasing a detail set for this kit. With this set, you'll be able to convert the kit into boats from the batches of MTBs of MTBs 240-257, 275-306 and 363 to 378.