By: Fritz Koopman
Model built by myself, photos by Matt Grzybinski.
This is the Revel 1/72nd kit, updated with the 37mm gun from the Hasegawa Jeep kit, and White Ensign Models' excellent PE set. Many smaller items such as port & starboard running lights, horn, spray rails, and forward cabin windows, etc. were scratchbuilt. Flag is hand painted. The White Ensign Models' .50 cals were a bit fiddly to assemble. Yet when complete, they make themselves the focal points of the model.
The number one question I got from modelers in my local club, was why I didn't add some clear cockpit windows. However, all of 109's later photos, that I could find, show that these were replaced with 10 gauge steel sheet splinter shielding. So, that's the way I portrayed her.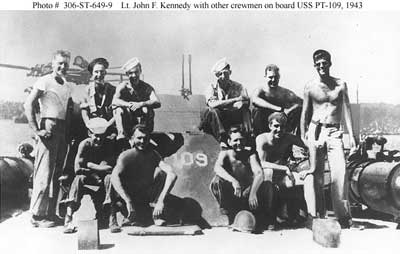 JFK and Crew Members of PT-109
(courtesy Naval Historical Center)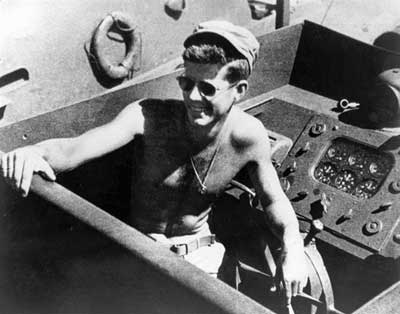 JFK in PT Cockpit (note shielding around the cockpit)
(courtesey JKF Library)
To see larger views of the photos below, click each thumbnail.

Parts available from White Ensign Models:
PE 7205, 1/72 PT-109 Etched Brass Detail Set;
PE 7216 1/72 U.S. Army 37mm Anti-Tank Gun;
PE 7217, 1/72 USN Mk.3 Single 40mm Bofors;
PE 7221 1/72 USN Mark 13 Torpedoes/Roll-Off Racks (x2);
PE 7222 1/72 USN Oldsmobile M4 37mm Cannon;
PE 7234 1/72 USN Single 20mm Oerlikon with solid and tripod pedestals;
PE 7238 1/72 USN .50 Cal Air-cooled M.G.;
PE 7239 1/72 USN Mk.14 21" Torpedo X 2;
PE 7243 1/72 Browning .50 Cal. Water-cooled Machine Gun.

For more information visit https://www.WhiteEnsignModels.com